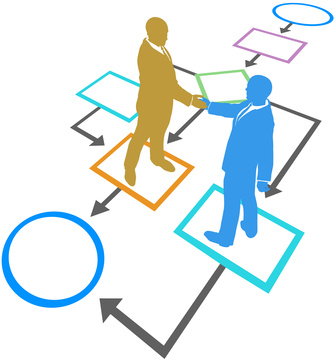 If I asked you what was your most important asset to your business what would your answer be?
Your laptop
Your Internet connection
Your websites
Your blog
Your Facebook account
Your list
While you need all of the assets above, especially your list, I would say there is something much more important than all of the above and that's …
Your connections with other marketers.
That's right, connections. Sure, when I launch a product I have a decent sized list to generate a lot of sales but it's my JV's who make most of my sales for all of my products, most who I know personally, and it's not just JV's that make your connections the most important asset to your business. What if you need help with something or need some advice, do you have someone to go to who can help you if you need it? I know I do.
Without the connections I have I know I would struggle online as I can't possibly do everything myself.
I would put my connections into 3 groups.
1 – My very close connections who would do anything to help.
By that I mean someone who would mail for me anytime I asked no matter how much notice I give, someone who would spend hours out of their day helping me with a problem, someone who would be available on Skype at the drop of a hat, who I could talk to in complete confidence about my business. Most of the connections who fall into this category I know very well and have usually met personally, or at the very least have spoke to personally numerous times. I would have their personal email, Skype details and cell phone number.
It goes without saying that I would also be there for them whenever they need my help.
2 – My connections who I can usually count on.
These connections would have supported me in the past for previous launches and I've probably supported them. They would usually be there to support me during a launch and would probably find time to help me with anything I needed. They would also know me enough to contact me personally. I would have their personal email and Skype details.
I would also be available to help with most issues but I may not always be available for a promotion, especially at short notice.
3 – My other connections.
Most of my other connections would be people I've met in forums, Facebook and other social media platforms, they would probably be on my mailing lists and possibly be an affiliate, there's also a chance that they may not be able to support me on every launch. I probably wouldn't have their personal email or Skype details. Any new connections would also fall into this category.
Most of my connections in this category I probably wouldn't know too well but of course that can change over time.
I don't suppose you need me to tell you that the more connections you have in group 1 the more chance you have of success, especially with a product launch, so how would you go about building these sort of relationships? Well it's quite simple, you think about their needs before your own.
So many marketers operate online and all they think about is themselves, they don't reciprocate with a promotion, they don't make themselves available when people they know want help and they usually don't reply to emails. If this is you you are suffocating your business.
If I do my utmost to help you with a launch, maybe offer some advice or promote your product then a few weeks later I email you to ask for a testimonial, or a possible promotion and you don't reply well guess what? You just fell into the number 3 category and we have to start all over again.
This has happened so many times. When I'm launching a product they can't be found but when they are launching a product guess what? They are all over my Facebook, inbox and support desk. These people would usually get a polite 'thanks but no thanks' reply.
Don't let yourself fall into this category, if someone has helped you in the past remember it and be prepared to reciprocate, be prepared to offer help and advice and above all be there for them, this is where real relationships are formed and where the big money is made.
Remember, the connections you form are the building blocks to a successful business, but also remember that other marketers are also building their businesses too, so be there for them when they need you because if you don't you'll find the online marketing world a very lonely place.
I encourage you to comment, share and like, it will help build our relationship.