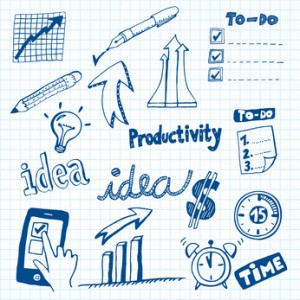 Do you suffer from "analysis paralysis"?  This is a common behavior pattern among those who tend to think and analyze too much before doing a certain course of action.
For me, it is manifesting in trying to absorb and learn all I can at first before deciding to take any action in my online business.  It can also mean procrastination on my part as I have some uncertainties on the next steps to grow an online business.  This is because I tend to think that an online marketing business is hugely different from the usual brick and mortar business.
You will find below what I consider as my major list of "symptoms" that might indicate a person suffering from analyzing and researching too much prior to taking action:
1) You have lots of purchased but unread Warrior Special Offer (WSO) products (also known as bright shiny objects) in your hard drive
I agree that most of these products offer good value to novice and experts alike in internet marketing.  However, having lots of these products could also lead to information overload and hence, indecision.
2) You tend to gather these WSO products as you believe you will need them sometime in the future even if it does not fall within your current business plan
Most of us are probably guilty of doing this.  If we see good value and new trends emerging in the internet marketing business, we tend to become distracted and purchase these products.  However, this could lead to a lack of focus on our current projects that would lead to loss of sales or recurring income.
3) You read all the incoming emails from all the different marketers whether you know them or not
Reading all emails, whether legitimate business messages or not, could further distract us from meeting some specific deadlines.  While emails are good sources of information and source of building relationships with other potential joint venture partners, we should be more selective on the people we follow or communicate with.
4) You attend all webinar invites
Webinars usually take at least 45 minutes.  Based on my experience, most of these webinars are sales pitches that might not be connected to your current projects.  In this case, you are diverting your valuable time to something which will not contribute to further sales and revenue.
5) You spend more time in social networks (Facebook, Twitter, LinkedIn among others) than in planning and performing specific tasks.
I agree that social networks are here to stay and are critical to our online business, primarily in driving traffic and developing business relationships.  However, these are also sources of distraction and can delay your previously set project deadlines.
So how can we try to change this "recurring analysis paralysis" and procrastination of sorts?
There are several ways to change your non-productive business process and turbo charge your online business to profitability.  Here are some of my suggested methods to address productivity:
a) Choose and decide on your main online marketing strategies, tools and techniques and give them a chance to work
With all the information and technologies available to us, we need to decide and focus on the best strategy, tools and techniques that will help us get to where we want to be.  All other strategies are to be kept at bay as we test out and try to give a chance for our chosen methods to work within a specific period of time.
b) Plan your schedules wisely – daily, weekly, monthly and annually, if possible
A practical method is KICK-Starting your day:
K = Know exactly what task you are going to do first
I = Implement that task immediately
C = Complete the task
K = Keep it simple
c) Define specific tasks to be done
It would help if we define specific items with time allotted for each task.  As an example, if one is full-time on an online business, the person can start with setting a small list daily, say 3 tasks individually scheduled for time blocks of 9am-11am, 1pm – 3pm and 5pm – 7pm.
d) Outsourcing
If we still have a day job or want to take our online business to the next higher level, we have to leverage on other people's skills and time to help us.  I believe outsourcing is partnering with people who can complement our own skills and talents.
There you go.  I heard it only takes 21 days to change one's habits. You might want to consider these suggestions to improve your productivity.
Also, if you find these tips helpful, there are some more details and items being discussed in a new WSO "A Successful Internet Marketer's Daily Action Plan" together with the bonuses e-book "Top 6 Critical Activities for the Successful Internet Marketer"  and video "Interview with John Thornhill".
Hopefully these strategies can help business owners propel and launch their business in high gear. Should you wish to learn more you can check out the WSO here.
Let us all happily work and be more productive in our online business especially in 2013.
This is a guest post written by Jane Deguia, if you wish to be considered for a guest post contact me.