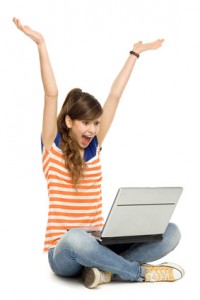 If you're like me you've spent a huge amount of time and money on products, systems, procedures and more. Only to find that in your experience none of them actually worked. Or so you thought. Of course once the system does not work you found a push button solution that promised $100 on autopilot. When that didn't work you were about to give up when suddenly an email from PayPal announces you made a sale.
You get excited but say "dang where did that sale come in from, I need to repeat whatever I did", but then you have no idea what you actually did. Pity as if you knew you could repeat it.
Here's the thing, 90% of people online aren't successful. You know one of the reasons?  The "I want to see results right now and if I don't I'll try something else" syndrome. Yup it's an actual syndrome :). Most of us call this the shiny object syndrome. It's jumping from one thing to another.
The other issue is setting out time to actually do things. There are lots of people who are working in a job and they have limited time to devote to their online ventures.
In my years of coaching I've found that people waste what precious time the have on the Internet venture. Spending time "researching" a new shiny object or new system. Convincing themselves that this system is it.
If you look at what John teaches you'll see he has a process and one that he follows. He's perfected it and it works. But of course what do we do? Instead of following it there are many who pick it apart, try to find weaknesses or even try to improve it without even trying it out first! In fact sometimes we end up with analysis paralysis, and guess what, we don't do anything.
Even if you can only commit 1 hour a day to your business you must make sure that it's a productive hour where you are working towards an end goal.
So that's important, but what is also important is that you review what you've done each week. Why? So the following week you know what you did, what worked, and what did not. This means that every week you're refining your process.
Let's say you select a task to build your list and your sales funnel. You throw up a squeeze page, give a product away and then you wait. Your list does not grow. You make no money, so you blame the process. To be honest what you did was not bad, but it could have been better. You could have planned things out more.
Being fast at the beginning and perhaps taking a shortcut does not necessarily mean you're getting more done. You have to plan and evaluate everything you do.
I'm sorry to burst your bubble but that product that is promising a push button overnight tags to riches story won't work for you.
You have to plan and evaluate. Now let's say you were to write everything down that you did and evaluate it. Don't you think after a month you would be in a better position? What about after two months? The systems you are implementing are now working. Each week you write down what you have done and you evaluate and refine your processes.
Say you're breaking into a new niche. Where do you start? You've got it all written down so now it really is rinse and repeat! You look back on what worked and you rinse and repeat. You do this each time you have a new niche.
Now after 52 weeks you have a complete blueprint of success that you can refer to. I've been there just like you. Attempting this and that, then forgetting what I did when I set up this system etc. But know I have it all written out so when I go to create a new product I can refer back to my 'success diary' as I call it.
The truth is all the top marketers follow a rinse and repeat formula. They want to promote an affiliate product? They use the same process they used in their last promotional campaign.
Sure they went through some trial and error, but they noted what they did and refined it.
So let me ask you this. Will you start recording what you are doing, stick with it and evaluate your outcomes?
I know you are thinking 'but how will I do that or what will I use?' I've got you covered there. I invite you to download my weekly planner and success diary. You'll see what others have said.
Here's something. I want to feature you as one of my success stories so download now, promise me you'll stick to one system and show me your results.
To your greater success
Richard
This is a guest post written by Richard Butler, if you would like to be considered for a guest post contact me.