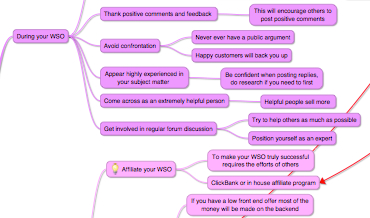 Today I have a real gift that is worth thousands if you use it correctly. There's nothing for sale, no hidden agenda and I know it will benefit you if you download it.
It's the Mindmap I created when I was working on WSO Domination.
It includes everything you would need to know when creating a product or WSO, and when I say everything I mean everything. I cover topics such as:-
Product Creation
Sales Page Creation
Content Creation
Everything
Make sure you check this out and be sure to consult it when you're working on your next product/WSO. You can download the Mindmap below.
As always your questions and comments are more than welcome.